By: Emily Wolter
Texas Tech has an event at the beginning of each school year called "Ag Fest" where organizations from the College of Agricultural Sciences and Natural Resources can come together and reach out to the students, both new and old, with the company of good music and free food. The free food comes in two forms, Fuddruckers and Raider Dots. These chilly little dots have come to be expected and we are more than happy to deliver. Because who doesn't like playing with liquid nitrogen? The process is quite simple. Make ice cream base or, in our case, borrow it from the generous creamery downstairs! Pour the mix into separatory funnels and position above containers suitable for liquid nitrogen. Fill the containers with liquid nitrogen, grab a spoon and allow the ice cream mixture to flow out of the separatory funnel while stirring (of course, ensure you are wearing the appropriate safety gear). Then, simply scoop out the little ice cream balls into plastic cups and allow to warm up a bit before giving to unsuspecting passers-by. If they demand to have some of your scientific creation right away, inform them that liquid nitrogen boils around -320°F and, therefore, creates a very very cold ice cream.
Our trick is to simply make some cups upstairs in the lab prior to Ag Fest and then wheel everything downstairs, including a cooler of pre-made Raider Dots. Then, people can enjoy the fruits of our very fun and scientific labor immediately.
Because you just can't go wrong with liquid nitrogen and ice cream.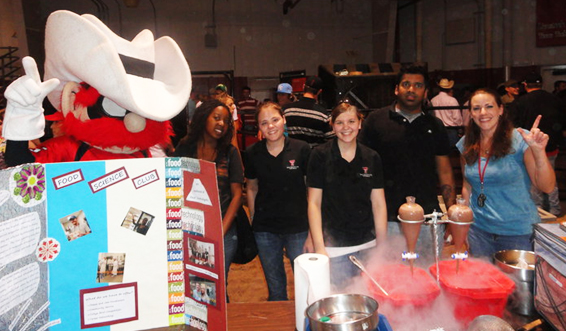 How did your food science club kick off the new school year? Tailgating? A New Fundraiser?
Email me at emwolter2@gmail.com with a short story or simply some pictures and we will feature your innovative ways to actively get involved as a food science club!