Do you love food? Yeah, me too. That's why we're both here, right? But we need to address something. The latest United Nations Environment Programme (2021) report estimates that approximately 931 million tonnes of food waste was generated in 2019. That equates to the loss of water, energy, and resources. Through the food system, trillions of calories and nutrients never make it to become consumed by people (FAO, 2022). Food waste includes both the edible and inedible parts of a food product, such as bones, vegetable peels, and spent grains resulting from brewing and distilling. The facts and numbers loom over the heads of all of us that work with food.
While the situation may seem dreary at times, I think it's important to highlight the entrepreneurs who are disrupting the food industry and taking on the challenge. They can be called sustainable entrepreneurs, green entrepreneurs, food waste warriors, but no matter what you call them, it is hard to deny the differences they make. I had the pleasure of meeting and hearing Karin Beukel speak during a PhD course at the University of Copenhagen and her passion immediately reminded me of the importance of sustainable food systems. Karin is an experienced researcher, has a PhD in Economics and Management from Copenhagen Business School, and is the co-founder of Agrain by Circular Technology.
Agrain by Circular Technology is a Danish- based company addressing food waste. Agrain's journey started when Karin participated in a course at the University of Copenhagen, where students were looking at spent grains as a source of human nutrition. After the course, she co-supervised a student's thesis on the topic, which eventually led to collaborations with a commercial partner. Founded in 2018, Agrain by Circular Technology upcycles spent grains from beer and whiskey production to make delicious and fiber-rich flours, crisps, granola, and more.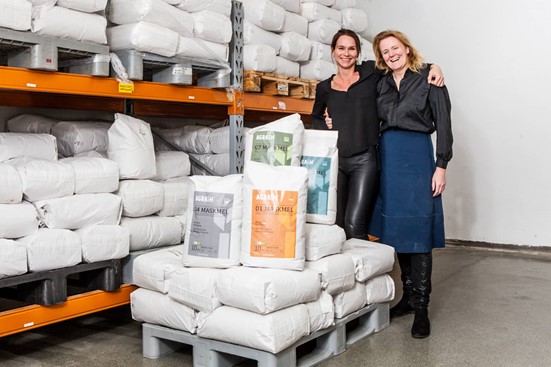 Agrain founders Aviaja and Karin stand next to bags of their beer and whiskey "maskmel."
Image source: agrainproducts.com
Do you know how much impact Agrain has on food waste?
K: We currently process approximately 3 tonnes of spent grains a day, depending on the day of course. We are still a start up, so the impact is still small. But there are 40 million tonnes of spent grains a year globally, so the potential impact is definitely there.
What inspires you to come up with the products?
K: The products are really about making everyday sustainable foods. We are building a new category of these upcycled foods. Because it's a new category, we want to make the products as normal as possible so when people go down to the shop, they can choose between a granola that's sustainable or one that isn't. We do tastes and experiences that people have seen before, but it is a sustainable choice. Everything we do, we know we need to make it extra delicious so people get used to buying this type of product.
What was the hardest part about starting this business?
K: That's an impossible question! [laughter] There are problems everyday. Of course, the financial part and knowing exactly the risks you are taking and any conflicts with upcycled food. It's really about combining different areas of research, everything from behavioral science, to economics, to food science, processing technologies, and mathematical modeling. You need to know all these different areas so that makes things a bit more difficult.
Did you ever receive doubts about wanting to focus your business on sustainability and food waste?
K: Not really. It was actually quite the opposite. We are so early and we are growing a company in a sustainable direction that has a good impact on the planet. Within the last couple of years, many investors have stopped investing in "dark technologies." I think it's really a pro. It's becoming clear that if you don't have a positive impact, building and growing a company will be very hard. We see consumer trends are changing quite fast. Consumers are more interested in sustainable products than they have ever been before. You can also see this in multi-national companies. You can see them starting to have a sustainability strategy. But we are sustainable by heart, by DNA, and it's been part of all the decisions we've made so I think this makes us a stronger business. We have a solid business plan and a big sustainability impact, potentially one of the largest in Denmark.
What do you think the future of food sustainability will look like in 10 years?
K: It will grow tremendously. Tremendously. Everybody knows that food waste and food loss is something we cannot accept in the future. Large companies are often contacting us about their waste streams asking us what to do with it. There is a very large focus on this. Consumers are reacting, but we haven't seen the full impact from the political perspective. Science has been clear that we need to make a change, but it's really the political environment that will need to set regulations and taxes to follow through on what we need to do.
What would you tell someone who would like to start a business focused on food sustainability?
K: Go ahead. We need you. There is no such thing as too many entrepreneurs in this area. We really need people to focus on this.
Agrain by Circular Technology is currently only available in Denmark, but will soon become available in other parts of Europe. If you are ever in the neighborhood, Karin recommends you try the crackers. You can visit their website or visit their page.
References
United Nations Environment Programme (2021). Food Waste Index Report 2021. Nairobi.
(2022). [Post] LinkedIn. Available at: https://www.linkedin.com/posts/fao_food-loss-waste-isnt-just-about-perfectly-activity-6893523267895070720-Oaga
Agrain by Circular Food Technology. [Website]. https://en.agrainproducts.com/
---
Cassandra Maya | Linkedin
SMF Blog Writer
Cassandra earned a B.S. in Food Science and Technology from Cal Poly Pomona and a M.S. in Nutritional Science from San Diego State University. As a ‪Marie Skłodowska-Curie PhD fellow at the University of Copenhagen, Cassandra researches the nutrition and acceptability of alternative proteins, but is especially a fan of edible insects. In the future, Cassandra hopes to teach and foster kittens.