Author: Emily Del Bel
How excited am I for the 2012 IFT AMFE?
THIS EXCITED!
No, really – I mean, sorry about the caps lock and everything, but I am SUPER excited to be going to IFT12 – short for the IFT  Annual Meeting & Food Expo. Its  in Las Vegas. Did someone say VEGAS? There I go with the caps lock again, but really, can you talk about Vegas without using big letters? Well, I've never been there before, and I'm sure that Las Vegas is all that everyone says it is, but what I'm REALLY excited about is IFT12.
I have to admit, going to the  IFT  Annual Meeting & Food Expo as a student (as opposed to a professional) has its perks.
First benefit: Aside from the reduced rate for students there are dozens of events geared to students. The College Bowl, Career Center, Poster Sessions, Mixers, Parties . . . There are so many events to attend.
Second benefit: The Annual Meeting is FULL of speakers, educational sessions, scientific program sessions, and student competitions. Whether you are interested in carbohydrates or proteins, microbiology or packaging, food safety or nutrition, there's something for everyone! Don't forget to include time in your schedule to check out the student poster sessions, product development competitions and other student activities. Check the website closer to June for a more detailed schedule.
Third benefit: The Expo. I mean, THE EXPO. We're talking thousands of square feet, hundreds of booths, and millions of things to see, taste, and learn about. Want to taste the newest flavor trend?  It's there! In fact, just like the educational sessions, there's something for everyone.
Stay Connected
#IFT12 Food Expo contains the newest developments in color, including the latest breakthroughs in natural colors. http://t.co/ETwc77v3

— IFT (@IFT) June 15, 2012
Represent
Just remember that since you are a student representing a school (and yourself) to be on your best behavior. These companies pay a lot of money to participate in this Expo; while those flashy key chain-bottle-opener-stapler-pen-samples might be awesome, do you really need a handful? Here's a good method that I use:
Approach each booth as if that person might be your next co-worker (or boss! You never know!)
Politely inquire as to the nature of their product and one or two questions about how it is used; what is so innovative about it, etc. Don't be surprised if they are not very interested, after all you're not likely to be spending money with them (yet).
If this is the case, politely ask if you might take (insert item here) and thank them for their time.
Sometimes however, you will find someone who would LOVE to tell you about dot dot dot…(Another tip: this will probably not occur on the first day, so attending the expo later on, even the last day, is the best time to catch these people).
Again, remember that even though you are a student, that doesn't mean you're flying under their radar! Large groups of students are especially noticeable, so try to break up into no more than 3-4.
Follow these tips and you should have a great time at the Expo!
First Time?
If this is your first time attending AMFE here's a tip to saving money- stick together! (I know I just said break up the group, roll with me.) Make reservations for hotel rooms in a large group. Often you can fit 4-5 people in a room for not much extra. Don't worry about the small space; you'll hardly be in your room anyway! Group cab-fare is much cheaper than individual fare, and depending on what time you fly in, public transportation is much cheaper than a cab or shuttle. Double check to see if your hotel offers free shuttles to and from the airport though; free is best!
When planning meals, definitely bring snacks like high protein granola bars, apples, and don't miss out on all of the free food! Again check to see if your hotel offers free breakfast. If you're staying 3-4 days it can be worth spending a bit more for a free breakfast bar, since you can always grab an extra yogurt for a mid-morning snack. There are a ton of receptions and mixers for students and professionals to attend, but remember you're not just there for the food! Learn the art of munching while chatting, and again, split it up (are you lost yet?). Try talking to people that you don't know, you might just find your next employer, or someone who knows someone that will… (You get where I'm going with this, I hope; the food industry seems huge, but it's actually quite small.)
Here are a few last tips:
Bring a business card, even if you're an undergrad, you should have something that has your name and contact information on them. (Give a business card, get a business card is how it tends to work.) Resumes should typically be restricted to the career fair.  (By the way, those giant name tags that you get are the perfect place for carrying around your business cards and any that you might get. I had NO idea during my first AMFE.)
Follow up with anyone that you had a particularly interesting conversation with within a week of returning home. This is a very important step in developing and maintaining your network.
Lastly, have fun!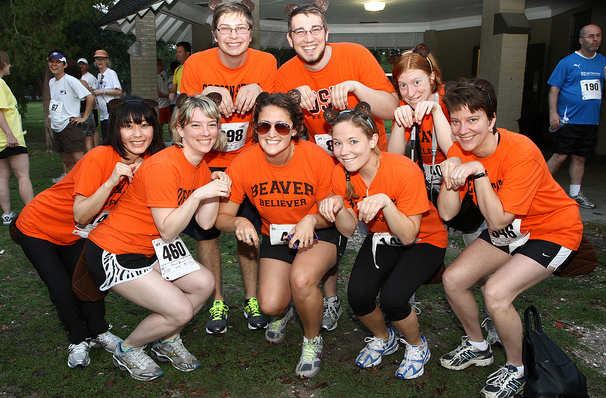 Don't forget to register for the Fun Run, and plan on sticking around Thursday night for the IFTSA Retro Bowling Party and the IFTCares activity on Friday.
There are so many fun things planned that I'm having a hard time deciding what I'm most excited about. So, tell me, what are you looking forward to most at the IFT Annual Food Meeting and Expo?