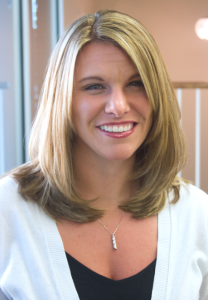 Name: Liz Bloyd
Job title: Senior Account Manager
Company: Anderson Partners Food Ingredient Marketing
IFT Division: Marketing & Management
Highest Level of Education/Degree: Bachelor of Journalism, Advertising
What is your favorite quote?
"Reach for the moon. Even if you miss you'll land among the stars."
What does your schedule look like today?
Today, I have a couple of meetings, one that is with my co-workers to concept marketing communications tactics and another meeting that is a conference call with, ironically enough, the IFT Marketing & Management Division. Outside of my meetings, I have a lot of day-to-day project management and account service tasks for each of my food ingredient clients.
How did you go about finding your current job?
I worked with a large corporation in Omaha for their marketing department and really missed working for an advertising agency/marketing communications firm. So, I kept an eye on a few firms in Omaha and applied at Anderson Partners when I saw the position open up.
If you weren't a Food Scientist, what would you be doing?
Technically I'm not a food scientist, but if I weren't in my current role in food ingredient marketing, I'd probably be a fitness coach or personal trainer.
Who do you think is the most influential person in your field and why?
The beauty of my job is that I get the opportunity to work with many influential people in my field every day. I have clients who have cross-functional team members that I get to collaborate with who have worked in the industry for over 30 years and share the same passion that I do for marketing food ingredients. In fact, the people I've had the chance to talk to and engage with at IFT have really been influential and have helped me build on and grow in my position as a food ingredient marketing communications professional.
When are you most inspired?
I am most inspired when I'm collaborating with my co-workers and my clients. I thrive on working as part of a bigger team and feeding off of everyone's ideas, knowledge and experience.
Why should I join ­­­­­­­­­­Marketing & Management Division?
It's a great opportunity to connect, network and collaborate with other individuals who share a common interest. As part of the Marketing & Management Division, you can be a part of a network that provides opportunities to help build sales and marketing skills to its members, as well as ways to be an engaged member by participating in their newsletter, videos, podcasts and special events.
Join IFT's Marketing & Management Division!
The most valuable thing I, as a student, can do to further my research/career as soon as I finish reading this interview is:  
Find ways to get involved. The more you get involved, the more you can learn, grow and develop the skills you have to help shape your future.
What is your favorite food?
This is probably the toughest question to answer because I love all kinds of food. But, if I have to narrow it down to just one, I'd have to say pizza. There are so many things you can do as far as toppings and crust to make a pizza satisfy whatever taste you're craving.
Follow Liz on Twitter at @lizbloydfood or send her an email at lbloyd@andersonpartners.com.