Name: Amir Saberi
Job title: Senior Innovation Scientist
Company: Cargill (Cargill Food Innovation Center)
IFT Division(s) to which you belong: Food Chemistry
Highest Level of Education/Degree: PhD with 3 years of post-doctoral experience
What is your favorite quote? "I have not failed. I've just found 10,000 ways that won't work." Thomas Edison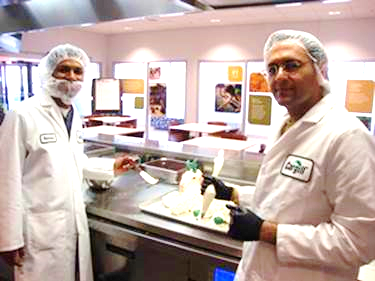 What does your schedule look like today?
8:30- 9:30: Group meeting
9:30-12:00: Optimizing the oil processing conditions in the bench processing lab
12:00-1:30: Informal meeting and Lunch
1:30-2:30: Answering email, setting up the new meeting for the joint project with other teams
2:30-3:30: Preparing the experimental design for the new project
3:30-5:00: completing the experimental work in the lab and planning the future experiments.
How did you go about finding your current job? While I was applying for several jobs, one day my current supervisor came to our department (Department of Food Science at UMASS Amherst) to meet our department head and meet grad students as well as post-docs. She introduced Cargill to us, which honestly I hadn't heard about before, and talked about Cargill's capabilities as well as opening positions available. I found that one of their openings matched with my background and I told her that I was interested to apply for that job (senior scientist). I was so excited for this position and immediately modified my CV based on her recommendations and sent her the day after. After a while I received an email from Cargill scheduling a phone interview. I received another email for an on-site interview few weeks later, and I got my offer a few days after my final interview.
If you weren't a Food Scientist, what would you be doing? Pharmacist
Who do you think is the most influential person in your field and why?  My post-doctoral supervisor, Dr. David Julian McClements. He showed me how to do research in the most efficient way, how to work as a professional food scientist, and how to nicely interact with food scientists with different perspectives.
When are you most inspired?
I am inspired when I find something interestingly new and especially when it is industrially practical.
Why should I join ­­­­­­­­­­the Food Chemistry Division or any other IFT Division?  I have been focusing on the applicable aspects of food chemistry within my PhD and post-doc research which is my interest. I do believe that food chemistry is a backbone for understanding various aspects of FOOD TECHNOLOGY.
Click here to join the Food Chemistry Division
The most valuable thing I can do to further my research/career as soon as I finish reading this interview is:  I think it is important to find the answer for any question coming up to mind by going through  literature and asking experts.
What is your favorite food?  Kabab Koobide (Persian Foods)
Contact Amir at amir_saberi@cargill.com
-OR-
Meet Amir in-person during the Division Networking Reception at IFT15!