By IFTSA
(Featured image: Student SCIFTS scholarship winners with the two board members: Rachel Hardecke (left end) and Dr. Yao Olive Lee (right end))
The fall season got off to a great start for the Mountain West area schools. Some schools participated in the IFT day of service by volunteering at the Orange County Food Bank. You can read all about this event in my other SMF post titled "IFT Day of Service in Southern California". The Mountain West schools located in Southern California are very lucky to be able to count on the Southern California Institute of Food Technologists Section (SCIFTS) to hold meetings every month. At every meeting, there are student members from California Polytechnic University Pomona, California State University Los Angeles and Chapman University who attend.
In October, the meeting was all about students because they distributed scholarships. The best students in the area were recognized for their talent and efforts. This included students from California Polytechnic State University Pomona, California Polytechnic State University San Luis Obispo, Cal State LA, Cal State Northridge and Chapman University.
 Students from Chapman University volunteering at the Orange County Food Bank
They also participated in their school's International Food Fair and got some resume tip from a representative from MARS.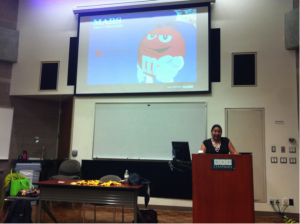 Resume workshop at Chapman
 International Food Day at Chapman
Cal State LA did a fundraiser at Soup Plantation as well as participated in Welcome Week on campus. At the end of the fall quarter, they had a bowling party where students and professors participated. They are also hard at work preparing for a SCIFTS product development competition.
Cal State LA students and professors bowling
The January SCIFTS meeting was held at Cal State LA, one of the Mountain West schools. The talk was about natural colors and it was a full house.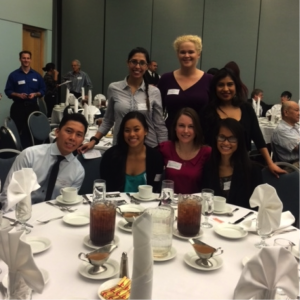 CSULA students at the January SCIFTS meeting
At Utah State University they had an opening club social at one of their professor's house. It was a potluck to get to meet new people and welcome new members to the club. They also participated in homecoming activities including handing out cheese curds and aggie ice cream to community members during the homecoming parade. They had a small tailgate party at the homecoming game as well as for club members. A large group of Utah State University students traveled down to Salt Lake City to participate in a dinner and presentation from Guittard Chocolate. They also had a cleaning project at the end of the semester that was a fundraiser for the club.
The Cal Poly San Luis Obispo Food Science Club has been busy at work on many projects.
Our Developing Solutions for Developing Countries team turned in their proposal several weeks ago, along with our Mars team, and Disney team! Our Heart Healthy product development team will be presenting in Chicago this March as finalists in the competition at the Health and Wellness Conference. They are also participating in the SCIFTS product development competition to be held in March.
They went on a club hike to find a hidden swing on the Cal Poly Campus and tackled a mountain as a group. This event is part of a newly developed mentor/mentee program where upperclassmen are paired up with lower classmen to help the lower classmen get involved and feel more comfortable with what food science is as well as spark their passion for the field. From helping with homework, to socializing together our food mentors and mentees are developing relationships to last beyond Cal Poly.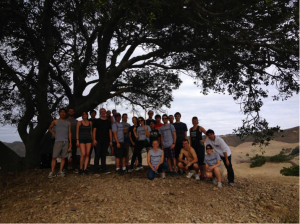 Cal Poly SLO students on a hidden swing hike
Their biggest project this quarter is developing and starting a Cal Poly Food Bank, in honor of recently passed professor Dr. Hany Khalil. The food bank is located in the Health Center at Cal Poly and run completely by food science and nutrition students. Based off future donations and relationships with industry as well as the local community Cal Poly Food Science is hoping to give back to the community through what they  know best – food. Students need to "Learn By Doing" but can't if they are choosing between books or food, our hope is to help make that choice less harsh. Students serving Students, learning through food.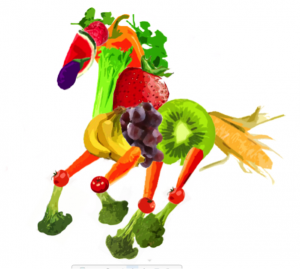 Cal Poly SLO Food Bank logo
For Valentine's Day, their club is holding a 2-day can drive called "Cans of Love". The motivation behind the event is give a can (of Food), get a can of Love (candy, stickers, confetti etc.) Promoting hunger awareness through food and the silly good feelings of valentine's Day.
Several members of the Cal Poly SLO club will also be traveling to CLFP to network and volunteer at the convention Feb 18th-20th. They will also be traveling to SCIFTS Suppliers night in March.
There you have it! All the Mountain West schools have been busy at work not only with their classes, but also philanthropic, educational as well as fun activities.
Photo Credits: Mountain West Food Science Clubs