Let's continue our previous discussion of the food industry with a look at some topline food manufacturing financials and a mini case study on product development. Buckle up! We're about to embark on the treacherous trek through the nebulous journey of creating a food product.
Food Industry financials
Before we dive into how an idea becomes a product, let's briefly discuss the current state of the food manufacturing world. It should come as a surprise to no one that much of our modern world revolves around food and dining. From the advent of cereal cafes to the novel idea of selling a combo box of crackers and wine, consumers have come to expect innovative food products and marketing techniques from the food industry.
At the same time, consumers are demanding more from the products they eat. Better-for-you ("BFY"), "plant-based", and "sustainably sourced" are just a few examples of the macro trends that are fueling product development at both niche start-ups and food industry juggernauts alike. The numbers bear this out. As you can see below, the total amount of shipments (or selling value of goods being bought/sold) has increased overall in the last few years. In fact, since 2010 there has been a positive 3.3% compound annual growth rate (CAGR) of annual shipments. Parallel to this is the fact that food processors are also maintaining their net margins (or the amount of money they're making on the good they're selling), with a slight positive trend in the last 5 years.
These data are just one example of many that showcase the incredible growth the food industry has been experiencing. Comparing a trip to the grocery store now versus 10 years ago is another stark example of how the food industry has evolved and grown to meet consumers' expectations. The number of options available in every segment of the food marketplace has exploded in recent years, with food companies battling it out to be worthy of consumers' attention and purchasing power. Looking at the most recently available data from the Annual Survey of Food Manufacturers, animal products still dominate the marketplace as of 2016. Animal slaughter/processing and dairy products make up over 40% of total shipments that year (see figure below for a full breakdown).
All this growth, across every segment of the food industry, wouldn't be possible without a steady stream of innovative food products hitting the shelves. Continue on to read about the food product development process and how it fits wider food business.
Product Development 101
Product development is the cornerstone of many food companies, often being a part of their R&D departments. Food scientists usually fill roles within these departments and act as the project managers that shepherd products from the test kitchen to the pilot plant to full-scale manufacturing. Many of the readers of this blog will probably be familiar with this general concept. What may be novel to some is the fact that there are many other teams within food companies that work in parallel with R&D to get products to the shelves. The obvious ones to us technically-minded folks would be quality assurance, engineering, food safety, etc. The lesser-known teams would probably be marketing, sales, finance, and business development. These business-centric roles are there to ensure the fiscal feasibility of new products.
Now would probably be a good time to discuss a general overview of the product development process. Let's tackle it from both sides: the "science" side that product developers operate in, and the "business" side that sales folks and the like operate in. I would be amiss if I didn't mention that there is no one-size-fits-all explanation of the product development process. It greatly depends on the type of products and where/who is doing the development, but a general outline would be:
A business opportunity is identified. It may be a sad reality for some but developing cool products for the sake of them being cool and innovative is not enough for them to have longevity in the marketplace. It needs to meet the needs of the business.
Brainstorm possible product concepts. Depending on how nebulous the business opportunity is, the first step is to determine how that business need could be met. Oftentimes this means that R&D is working with their marketing counterparts to ideate, or perhaps the sales team has a request from a retailer.
Vet idea and perform due diligence. A great product idea on paper doesn't necessarily translate feasibility from a formulation, manufacturing, or financial standpoint. Further research and vetting must be conducted.
Prototype the idea and understand financial realities. The product developer will often make up samples of the product(s) at a benchtop or test kitchen scale to begin to hone in on a rough formulation and manufacturing process. Parallel to this, financial analysis is being conducted to understand if the product production costs make fiscal sense and what potential profit could be generated from the product. The regulatory/legal team of a food company would probably be consulted to understand potential naming/labeling constraints.
Test product to ensure it meets customer/consumer needs. Prototyping is an iterative process. The prototypes are often tested and showcased to ensure it is checking all the boxes. This could include sensory testing, reviewing the product with company leadership, or the sales team sampling the product to retailers.
Find the product a home (where it will be made and who will be selling it). Once a general product concept has been vetted, the product developer will now need to work with the manufacturing/engineering teams to figure out how to make it at full-scale. Does the company already have a production line with available time that could make it? Will you have to build a line for the product? Or perhaps you'll use a contract manufacturer to make the product? Of course, none of this matters unless there is a plan in place to get it in front of consumers. The sales team is now in full force trying to find a home for the product.
Hit the shelves! With the confluence of all the above factors and some luck, a product will be launched! From there, the quality assurance/food safety teams will be monitoring the ongoing production. The manufacturing, logistics, and supply chain teams will be responsible for getting it to its final destination.
Conclusion
The breakneck pace of innovation and product development in the food industry is sure to keep accelerating as consumers' expectations rise along with the concomitant advances in technology and automation. Our hyper-connected society allows for nearly instantaneous customer feedback. It's up to those of us in the food industry to meet this challenge and to continue feeding the world! Get out there and make it happen!
(P.S. Come check out our Instagram and Facebook for more weekly IFTSA updates, news, and food science!)
---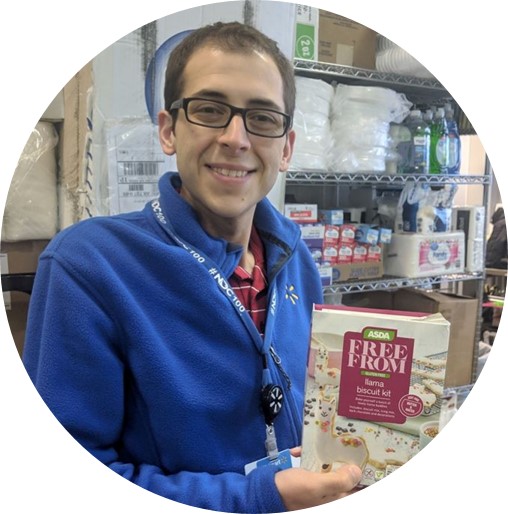 Pat Polowsky | Linkedin | Website
Pat is a Ph.D. student in Agricultural Education & Communication at Purdue University. Most recently he was a senior product development manager on Walmart's Private Brand team supporting the deli, entertaining, and gourmet categories. Previously he's worked in Vermont and Wisconsin, focusing on cheese R&D, sensory science, and software development. In his free time, he runs cheesescience.org, an online educational toolbox for all things cheese. His passion in life is communicating food science in a visual and engaging way. Some folks like gardening on the weekend, whereas Pat enjoys making PowerPoint animations of casein micelles. He has his B.S. in Food Science from Purdue University and his M.S. in Food Science from the University of Vermont.