This annual reception at IFT's annual speed-networking event showcases IFT's 24 Divisions, or special interest groups, as they come together in one place to make new connections and recruit volunteers.
This year, volunteers at each Division's table took pictures of attendees with polaroid cameras. Over 350 polaroid pictures were posted to a large wall, showing how we're all connected! The winner was Ziynet Boz, who won $500 to put toward travel to IFT17 in Las Vegas!
Almost 900 folks came to the event to meet with Division leaders and network with others who share similar interests in the areas of Product Development, Sensory & Consumer Sciences, Food Packaging, Nutrition, Protein, and more. Almost 600 people signed up to get more involved with year-round Division activities!
If you happened to miss the reception or just want to relive it, check out this clip: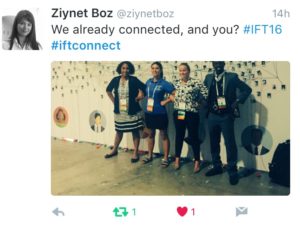 IFT16 Division Networking Reception Clip
Learn about IFT's 24 Divisions here. They are free to for any IFT member to join and student volunteer opportunities are available!
Did YOU attend the IFT16 Division Networking Reception? Comment on your favorite part of the event below!