In today's social media climate, one of my favorite wind down activities is to browse the popular subreddit of /r/Food.  If you haven't had a chance to scroll through this website, I highly recommend you do!  There are thousands of different groups and fun subreddits.  Specifically on the Food subreddit, users are allowed to post photos of food they have made or food they have found out in the world.  During my nightly wind down, I came across several photos of professional charcuteries and I could not believe just how stunning some were.  So much so, that I ended up going to a splinter subreddit called /r/CharcuterieBoard.  This journey down a rabbit hole led me to trying my own hand at making my own board, which is the featured image for this article.  While it is nowhere close to those professional ones, I really enjoyed making my own variety and type of charcuterie.  As I created my masterpiece and continued to slice cheeses into cracker-size bites, I wondered more about the legacy of charcuterie and how it came to be.  Jacob, my co-writer, and I wanted to piece something together about the history, the usage of charcuterie, and why you should try your own!
Photo by TheAngyTeddy from Pixabay
History of Charcuteries
Charcuterie (shar-koo-tuh-ree), as a word or phrase, comes from charcutier, which likely means "cooked, pork flesh." Typically, its meaning refers to the use of preserved meats and cheeses for picnics or on a tray.  Charcuterie was popular as early as the ancient Roman empire where salted and smoked pork was enjoyed by its people1. It really became a specialty in the Gaul region (present day France, Luxembourg, Belgium, Germany, and around that general area). This region is where they really began to make charcuterie their own. This style of food was born out of the need to preserve meats for long periods of time before the invention of refrigeration, but nowadays we prepare charcuterie for their distinct and powerful flavors and their eye-catching appeal.
Types of Charcuteries
The basis for all charcuterie includes dried, salted meat or proteins like salami, sausages, pâté, or bacon/fatty pork product; salt-cured or brined foods such as olives, pickles, pickled peppers, onions, carrots, or other vegetables; some sort of toasted or crunchy bread like crackers, croutons, or french/italian bread; some creamy cheese like brie, gruyere, or cheddar; and typically some fruit like grapes, figs, blueberries, or apples. Traditionally, charcuterie is only the dried or salted meat; with characturie nowadays, choose whatever you would like. It's your board; your choice!  If you want gouda cheese, use that; if you want a vegan charcuterie, do that!  It all comes down to what you and your group wants.
Just briefly, we need to mention that there is a major difference between a picnic and a charcuterie board.  It is very possible for a picnic to include or be centered around a charcuterie board, but the board is not a picnic.  The reason we mention this is because many, in warmer weathers than where I reside, have been eating outside and maintaining social distancing during COVID-19 restrictions.  To accommodate for this, there was a surge of popularity for picnics around mid April.  Even the famous Worth It trio of Adam, Steven, and Andrew did an episode on a $7 picnic vs a $15.50 picnic vs $323 picnic.  Honestly, the last one is basically an astounding charcuterie, just minus the board.  Either way, the picnic is mainly a type of activity and can include any type of food, but a charcuterie is typically eaten on a board and is extremely organized for its food!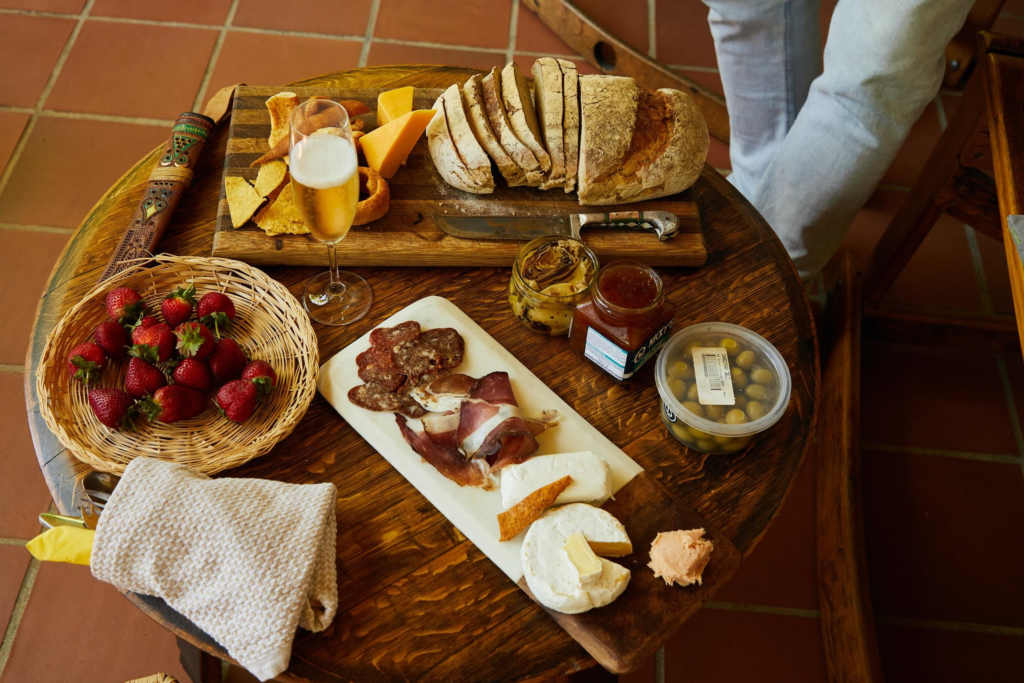 So how does one make a charcuterie board?  Well, one of the biggest concepts to understand is to first look at how much room you have.  Smaller boards mean you have less room.  Especially with COVID-19, you want to make sure you have an adequate space right now for people to pick what they want or need.  We heavily recommend only making a board with people that are in your social distance bubble.  However, the size of the board will help you sculpt out what you might want on there.  After that, it is important to remember that charcuteries are meant to pair everything together: meats and cheeses, crackers and fruits, pickles/brined food with cheeses, warm and cold, spiced with smooth, etc.  So try not to have overlapping or conflicting foods, like bleu cheese stuffed olives and chorizo spread.  Also, "smokey" foods are very trendy now, but try to not have too many, due to its overpowering nature.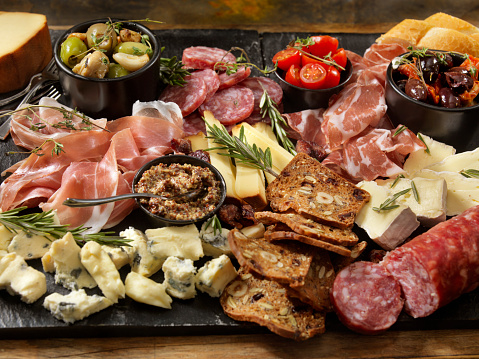 Photo by Lauri Patterson from iStock
After you find some good pairings, the most appealing charcuteries have a mirror look to them.  Basically, what you have in one corner mirrors the other corner (assuming rectangular boards). You want to have enough so that the colors all mix and match too, but like we said, play around with what you want and like!  Typically, I (AJ) have chosen pockets on the board where dips and sauces can go, then place the other items around those "centers."  Cut the meat into coin-slices, hard cheeses should go into thin rectangles or just leave as is for softer cheeses like brie, grapes and other fruit could be grouped and spread throughout, either left on the vine or in a dish, and then pickled foods (if still in brine) should be in a dish, if not, then they can be grouped and placed near the meats! Another approach that I (Jacob) like to use is to take my biggest curing board and start building around differing textures, for example, a favorite of mine is having something soft like a spread or thick sauce with a crisp element like an apple slice. You can be as adventurous as you want with exploring different texture combinations as long as the flavors work well together. Not everyone who I've made this model charcuterie board with is a fan especially if you have some picky eaters. Everything else is completely up to you, but we always recommend that you post your boards and inspire others with the choices you make.  Think of the board as a fresh canvas for your art and Get. To. Work.
References
Toussaint-Samat, M. (2009). A History of Food, Wiley.
---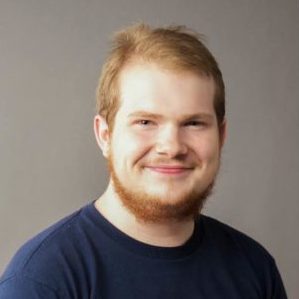 A.J. Taylor | Linkedin
SMF Blog Writer
A.J. earned his degree in Biochemistry from Judson University and his Master's in Food Science and Human Nutrition from the University of Illinois at Urbana-Champaign.  His research then focused on Listeria monocytogenes, but has now transitioned into a Ph.D. program at UIUC in the hopes to discover more about the cocoa bean fermentation process using genomic, bioinformatic, and biochemical tools to define chocolate flavor from start to finish.  A.J. emphasizes on the importance of science communication and loves to discuss multiple topics in the Food Science realm.  A.J. is also an avid gamer from board games to video games, as well as a podcast-lover, if you have any recommendations, he is all ears!
---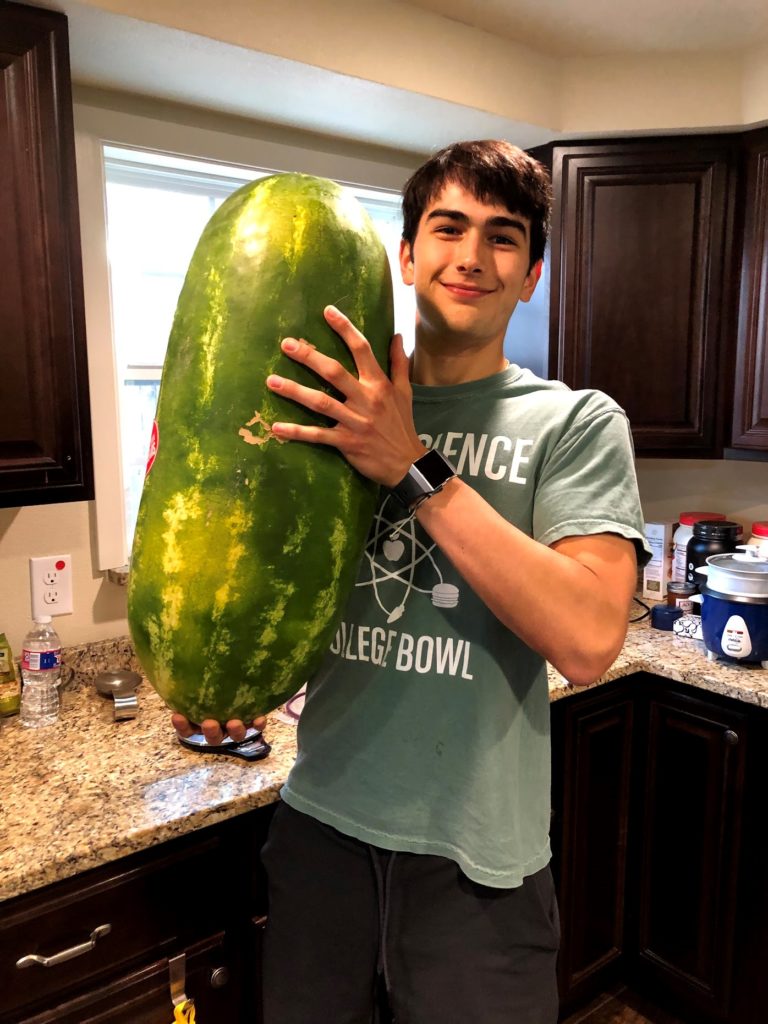 Jacob Webster-Jones | Linkedin
SMF Blog Writer
Jacob found his passion for food science while on an elementary school field trip to a R&D lab in San Antonio, Texas. Since then he has been interested in why food behaves the way it does and how it can be used to improve people's quality of life. He is currently pursuing his bachelor's degree in Food Science & Technology from Texas A&M University and is the current president of his school's food science club and IFTSA chapter. After he graduates, Jacob plans on going to work for a few years before returning to start a graduate degree, his ultimate goal is to work in research and development for a flavor company. On the off chance he has free time you can find him experimenting in the kitchen or enjoying the outdoors.