By: Kenny McMahon
Amy and Maya had a great start on the silver anniversary of the Amazing Race! They made it through the first leg, while the realtor agents from Florida did not successfully finish their challenge and were eliminated. In Florida, I guess the sun sets in the east. Nobody will forget Amy's reaction to that erroneous fact.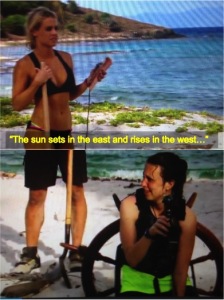 Don't say things you can't back up with facts when a scientist is around.
It appeared very stressful traveling over 1500 miles to try and acquire the "Save," a tool that can be used by a team to avoid elimination. However, Maya and Amy worked their way through the obstacles. In the main challenge this  week, competitors had to make their way to St. Thomas, Virgin Islands and find their way to a beach where they used their navigation skills (or lack thereof) to find a buried treasure.  Amy's physics skills proved the #sweetscientists were determined to win by unearthing the treasure chest with ease. I have never been so emotionally attached to this show, but all the #sweetscientists out there are rooting for you Amy and Maya! Let's go official food geeks (OFGs)!
Cover image: www.cbs.com