Last year, I attended the annual Cincinnati, OH coffee festival. In attendance were local coffee vendors and speakers, Austin Childress being one of them. Speakers touched on everything from how to brew at home to the science of flavor perception. Austin intrigued me quickly by his knowledge of sensory interactions and how these affect our enjoyment of coffee.
Ultimately, this led to a yearning to speak with him one-on-one. I soon learned he was Director of Education at Carabello Coffee Company, based out of Newport, KY. This shop not only offers coffee, but they also hold classes, events and take-overs at their Analog bar (more on these topics later).
How did Austin turn into the coffee enthusiast he is today?
Austin's parents drank coffee all day, but they weren't exactly coffee connoisseurs. They used the darkest roast available and made espresso without involving any technique.  They would run the espresso machine 2-3 times, and the result, in Austin's words, was a cup of coffee that resembled a dirty ashtray.
Photo by Blake Richard Verdoorn on Unsplash
Austin's parents had another habit associated with their coffee drinking style: it was usually shared with company. The notion that drinking coffee was interactive stuck with Austin. To him, coffee became an experience, something you create memories with. As Austin started drinking coffee, he described his first impression, "It didn't taste great, but I loved what came with it."
After Austin graduated high school, he participated in an exchange program in Hungary. Austin worked in a coffee shop and experienced his first encounter with latte art. This opened his eyes to the idea that coffee could be artistic.
Image by StockSnap from Pixabay
The coffee shop Austin worked in brewed Illy espresso beans. Illy gained a reputation for quality and consistency, in large part due to an appreciation for the science and technology that lead to perfect espresso. The culture of Illy motivated Austin to learn more.
In the meantime, Austin met his wife while living overseas. She was a native of Los Angeles, California. Soon, they moved back to Southern California. After the move, Austin started working as a barista in a shop you may have heard of: Starbucks. His skills were appreciated, as he was quickly promoted to Supervisor. At this time, Starbucks also hosted an internal barista championship, which Austin won for his region in 2015. This lead to him being promoted again, to Regional Coffee Ambassador.
At this time, Austin was also among a very dense pocket of specialty coffee roasters including Portola, Klatch, Augie's, and Copa Vida. He attended their public cuppings weekly, sitting at their bars and asking questions. It was then when he learned what they were doing, how they were doing it, and why. He even learned equations that solved for how much flavor was extracted from the coffee beans. Together, the science and the aesthetics of coffee became equally important to Austin, as they both gave him the power to explain to friends and customers the reasons behind a well-made cup of coffee.
The variety of disciplines—art, science, psychology—involved in coffee kept Austin engaged in this career path. There was a large social and cultural aspect to coffee that gripped Austin as well. He is the first to admit "good conversation is much easier when the coffee is delicious."
Photo by Hans Vivek on Unsplash
After Austin's promotion to Coffee Ambassador, he had new responsibilities. He facilitated regional promotions of new products. Austin also eventually took over the Coffee Master classes held by Starbucks—his first foray into education around coffee. He redesigned the curriculum and found that he really enjoyed this part of his job. He loved helping people understand what coffee could be.
Becoming Director of Education
Eventually, Austin and his wife were interested in leaving California for a new adventure. That was when Carabello Coffee reached out with a position they felt suited him: Director of Coffee Education. Austin would now make education a primary role. He was tasked with educating and training internal employees, as well as external wholesale clients. There was also the concept of an Analog bar that intrigued Austin. His job would be to bring this bar to life. The Carabello's explained this bar would emphasize connectivity and create a new experience with coffee. Austin was sold.
He took his role as an educator very seriously. Austin trained and obtained the Mastery Diploma, the highest level of Specialty Coffee Association certification. He created the curricula for Carabello's courses, much like the ones he attended in California. Perhaps his largest undertaking was bringing the Analog bar to life.
The Analog Bar
The idea stemmed from the question, "What else can we do with coffee?" Austin described this bar as an evolution of sorts. The Analog bar is enhancing and promoting the coffee experience.
"I believe that shared experience is the currency of relationships."
– Austin Childress, Director of Education at the Carabello Coffee Company
In person, the bar reminded me of a small, upscale cocktail bar. There are hard covered, wooden menus describing signature drinks at your seat. Baristas assemble the drinks in front of you, engaging you from the moment your order. The Analog bar exploits the power of slower experiences, emphasizing connectivity. It's "elevated and intentional," Austin explained.
Photo by Lefteris kallergis on Unsplash
Photo by Janaya Dasiuk on Unsplash
Austin's interest in dynamic flavor interactions is showcased well at the Analog Bar. He explains that "from an aromatic/compound perspective there are about 850 compounds in coffee. So all of the nuances and interest in wine complexity can be discussed with coffee as well." And the complexity of many of the drinks on the menu certainly echoes this sentiment.
Carabello Take-overs
Austin also explained another passion of his: sustainability of the specialty coffee industry. The goal behind specialty coffee is to pay farmers fair prices for the beans they produce, "but everybody has to pay fair prices to make it a reality." Austin and his team asked themselves, "How can we get more people to support them?
The idea of a take-over was suggested. The take-overs would expose more people to specialty coffee, increase awareness, and ultimately enhance demand. Austin and his team invite coffee roasters to take over their bar for a day. The Carabello team pulls their coffee off the shelves to put the other shop's coffee up. The new roasters and/or baristas serve their pour over, signature drinks—all their own. Austin glowed as we discussed this aspect of the shop. His passion for all of his work is evident throughout our conversation, but particularly so when talking about helping others.
After speaking with Austin, I left feeling invigorated and that much more excited to support every local coffee shop on the surface of our planet. I was especially keen on going back to Carabello to experience more time within their community. Perhaps one of the best conclusions I reached after our talk was that we can be both involved in artistic, scientific and social enterprises. You don't have to pick one.
Thank you, Austin!
---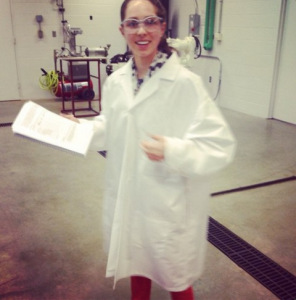 Alex Pierce-Feldmeyer | Linkedin | Website
Alex graduated with a B.S. from the University of Illinois in Food Science and completed her PhD at Ohio State University in a lab revolving around sensory evaluation and psychophysics, potentially the functional or cognitive benefits from food and food ingredients. Alex is currently a Sensory Scientist at MANE, a flavor company. An avid study-er of the nose and its wild contributions to flavor, potentially how aroma affects different aspects of cognition. Alex dabbles in triathlons and fitness-ness. She has an ice cream tour every Sunday, every ice cream place (that is good) is on her list and it must have sprinkles. Grocery stores, sunrises and puppies are everything!