By: Daniel Vollmer
This past Fall I was fortunate enough to be invited to speak at the Young Scientist Symposium in Ghent, Belgium.  This trip would serve two purposes: to speak among my peers at a technical conference and also to embark on a beer-pilgrimage through countries with extensive beer history.
The Young Scientist Symposium is a bi-annual conference put on for "young" (under 35) scientists by the Institute of Brewing and Distilling.  Being a beer/hop researcher in the United States is a rather unique role for a graduate student. However, globally we as Americans are truly young scientists in beer research, as the Belgians and Germans have been doing this for quite a while.  Now it was my chance to pack up my Bald Eagle and put on my American flag cape and show these Europeans how we do it. (Disclaimer – no eagles or flags were harmed or disgraced for my presentation).  Lucky for me, I was selected to present on the first night of the conference.  After 25 minutes of slides and American puns, my time in the spotlight had come to an end and it was time to start my beer adventure.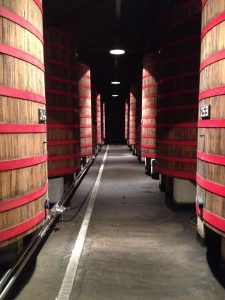 Situated among canals, old castles and churches Ghent, Belgium is a quaint, charming town about an hour outside of the capital of Brussels.  Stepping into my first beer bar, I felt like a kid in a candy store.  Belgian beers in the United States are typically expensive or hard to find. Having them at the source was truly a treat. Orval, Houblon Chouffe, Rodenbach, and to my hearts desire a Westvleteren '12 were just some of the beers that I tried throughout the week.  That last one, Westvleteren, can only be purchased legitimately at the Saint-Sixtus Trappist Abbey in Belgium- or on the black beer market against the will of the monk brewers.  The crown of the Belgium trip was our visit to the Rodenbach Brewery.  You can't mention Belgian beer without talking about Rodenbach. Some versions are aged upwards of a year in French Oak foeders (large, handmade wooden vessels).  This beer is rather popular in the United States, but in Belgium it is only about 40-euro cents more expensive than water, so needless to say it's a frequent, high quality go-to.  The brewers at Rodenbach took us on a VIP tour through their all-wood cellars, cooperage, and brew house.  Those of you who have been on brewery tours in the United States are typically accustomed to large stainless vessels and labyrinths of pipes.  Rodenbach on the other hand is still true to its roots.  After primary fermentation the beer is aged the oak foeders.  These same tanks have been around for many decades and are constantly maintained by coopers (barrel smiths) to make sure they stay in working condition.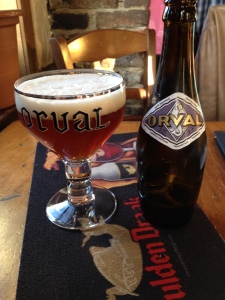 As the week came to a close and I had had my fill of waffles and frites with mayo it was time to move on to Berlin, Germany!
Lucky for me, I had the pleasure of having a resident tour guide.  Jakob was a visiting scholar in my lab two years ago and was more than excited to show off his city.  Because this is a food-focused blog, I will keep this topic centered on that. However, separately Berlin is a city with a tremendous history.  It has been built up and knocked down several times after various wars and periods of dispute.  If you are a history buff, put Berlin on your list.
The highlight of the Berlin trip was visiting one of the last remaining large breweries within the city limits.  The Schultheiss Brewery is the result of many years of consolidation and downsizing from the once many breweries in Berlin.  Here they brew some of the most characteristic German beers that are served throughout Berlin and greater Germany.  I have been on dozens of brewery tours in the US, most of them tell you the same story; most of them serve little samplers at the end and high five you out the door.  This was not the case in Berlin.  After our tour, tray after tray of pale yellow lager was carted out, one after another.  These beers may be similar in appearance but their taste is so distinct and amazing.  After years of being a self-declared hop-head, I now enjoy more gently flavored beers and I have been transformed into a full on lager fan. These beers truly define the style, they are sessionable, malty, and have slight hints of dimethyl sulfide and metallic notes (believe me those last two are good things here).  Someone at our table also ordered the famous Berliner Kindl- a very drinkable, low-alcohol, lactic soured beer often accompanied with flavored syrups to mix in.  Here they take great pride in their beer service and the presentation is second to none as each beer came in a large, beautiful glass adorned with a brand-specific label.  After trying a few beers, we were treated to "eisbein", boiled pork knuckle, served with potatoes, sauerkraut, and mashed peas.  Beer and all, this only cost 15 euros- talk about a deal!
After 10 days of nonstop food and drink and a heavy dosage of meat and chocolate it was time to go home.  I have never wanted a vegetable so badly in my life.  What a privilege it was to be able to represent my lab abroad and show my peers some of my work. It nearly goes without saying, but getting the chance to travel and enjoy two fantastic beer cultures was such a pleasure for this beer geek.
---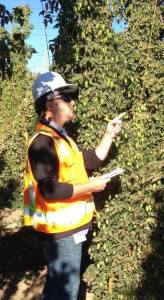 Upon completing his B.S. and M.S. in Food Science at UMass Amherst and doing a small stint as a line-chef, Dan was dead set on being a beer brewer and enrolled in the UC Davis Master Brewers program. As it turns out, he was way too much of a nerd to turn down the opportunity to pursue a Ph.D with Dr. Tom Shellhammer at Oregon State in the area of brewing science. Without hesitation he packed his car with all of his belongings and left the Northeast and headed across country to the Pacific Northwest to study hops and live in the epicenter of US beer culture. In his spare time Dan enjoys traveling, cooking, home brewing, gardening, and anything involving eating.