As a volunteer at my university's micro-creamery, I've helped make cheddar cheese and cheese curds. If you have made cheese from scratch, you know how little cheese is produced from a lot of milk. In fact, only around 10% of the milk ends up in the final cheese product (Flores, 2008; Panghal et al., 2018). Most of the milk is discarded as whey since only the curds, which are predominantly aggregates of casein and milk fat, are needed for the cheese. Other dairy products that produce whey as a byproduct include butter and Greek yogurt.
[Separating cheese curds and whey]. Image by Susie Wyshak on Flickr
Whey looks like a clear, green-yellow liquid with a slightly sour odor. Approximately 94% of the whey is water, and the remaining 6% is lactose, protein and minerals (Kilara and Vaghela, 2018). Relative to the starting milk, whey contains 45-50% of the total milk solids (sugars, protein, minerals, water-soluble vitamins), making it a high source of nutrients (Panghal et al., 2018). Depending on the source, whey can be classified as sweet whey or acid whey. Sweet whey (pH > 5.6) is the byproduct of rennet coagulated cheeses and acid whey (pH < 5.1) is the byproduct of acid-coagulated cheeses or yogurt (Durham and Hourigan, 2007; Nishanthi et al., 2017).
On one of my volunteer days making cheddar cheese, I wondered whether there was another way (no pun intended) to use the leftover whey. In industry, whey is filtered in multiple steps to separate remaining fat (whey cream), protein, and lactose for use in other products. Whey cream can be used to produce whey butter, and lactose can be used as a filler or stabilizer. The whey protein can be added to health food products, such as protein bars and beverages to increase the total protein content. Some companies also use fresh whey to blend in beverages and improve the nutritional quality. For a separate project, I made a caramel using sweet whey. As you can see, there are quite a few applications for whey in the food industry.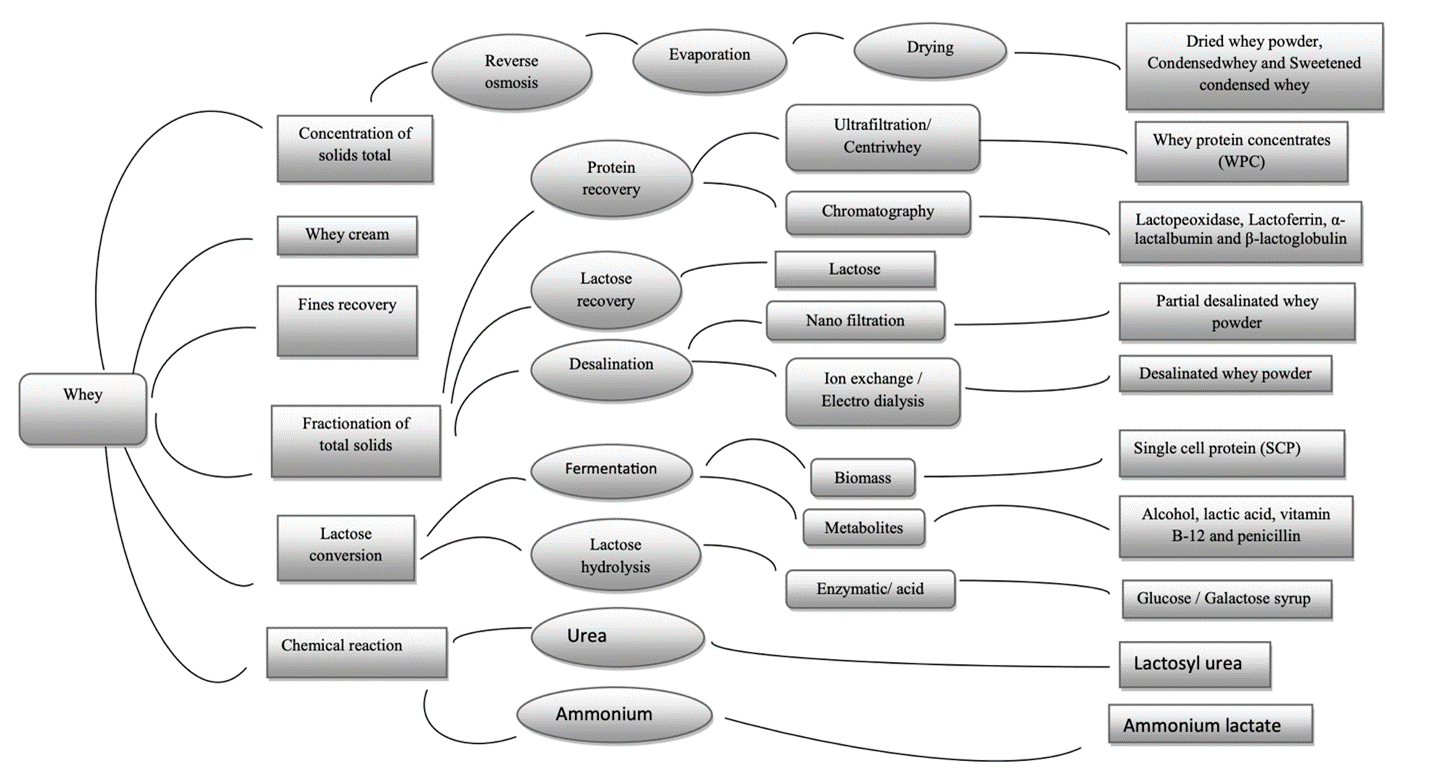 [Whey processing flow chart. Image from Panghal et al. (2018)]
But what else can whey be used for?
I did a little bit of googling to find other applications of whey and came across a Norwegian "cheese" called brunost, or brown cheese.
Brunost has many other names such as mysost, gjetost, mesost, myseost, and Braunkäse, and though there are regional differences among these brown cheeses, all of them are a product using concentrated whey. Most of these products have a total solid content around 80% after extensive evaporation of whey and additional milk and/or cream (Skeie and Abrahamsen, 2017). As the name suggests, brown cheese can have a light or dark caramel-like appearance and a soft, creamy body resembling young cheddar cheese. Depending on the whey used, brunost may be slightly sour, but the main flavor is milky and very slightly sweet from the lactose. It will melt under heat, making it a delicious breakfast addition on toast, waffles, or pancakes. Brown cheese is typically not classified as a cheese, and instead considered a cheese-like product (Gobbetti et al. 2018). Brown cheese can be made with just concentrated whey or a mixture of concentrated whey with other creams and milks. For example, most of the commercially available gjetost are made of either goat milk or a blend of goat milk and cow milk.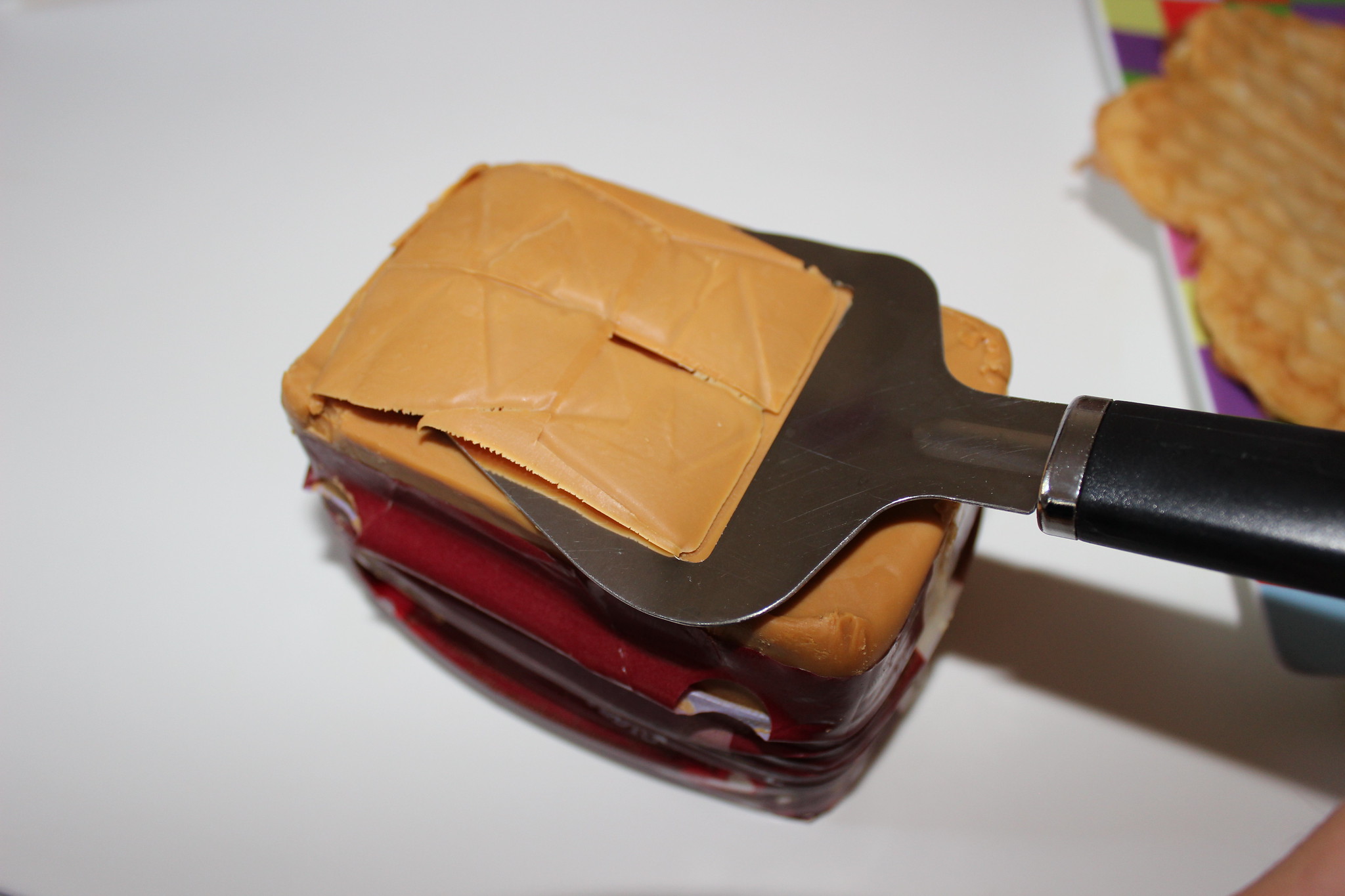 [Slicing gjetost]. Image by Like_the_Grand_Canyon on Flickr
The earliest description of brunost was found in texts from the 17th century. At this point in time, brunost was simply concentrated whey, which produced whey cheeses that were hard and brittle. Down the road, some milk maids modified the recipe and added milk, which improved the texture and taste of the whey cheese. By the second half of the 19th century, further modifications were made by adding cream or a combination of cream and milk (Skeie and Abrahamsen, 2017). The addition of fat made the whey cheese smoother and have a more delicate flavor. Most of the brunost sold commercially are made with whey and milk and/or cream. A spreadable form of brown cheese, known as Prim (or Primost), may have added sugar to enhance the caramel flavor (Skeie and Abrahamsen, 2017). By changing the degree of browning, ratio of raw ingredients, and source of milk, a wide variety of brunost can be made.
In Norway, brunost is a popular companion of toast, crispbread, and waffles. The whey cheese is sliced thinly and then placed on top of bread or other staple items. Like other cheeses, brunost can be used to make rich sauces for savory foods. It can also be used to make a cheese fondue. I purchased some brunost and enjoyed eating it on a warm piece of toast, since the thin slice melts just a bit to smother the toast's surface.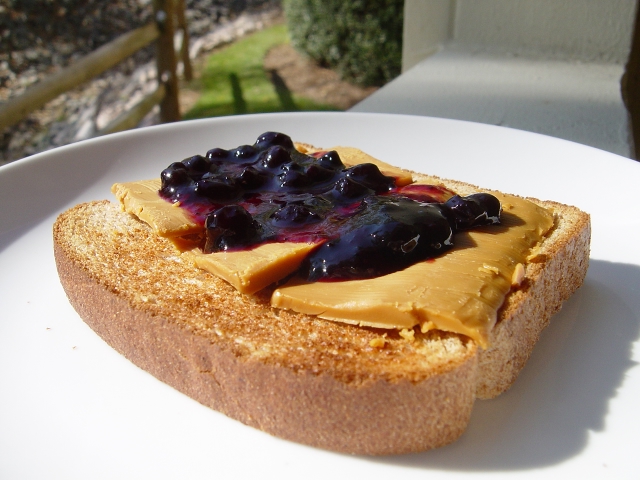 [Brunost on toast with jam]. Image by Jul Lllll on Flickr
[Brunost on waffles]. Image by Like_the_Grand_Canyon on Flickr
If you see some at your local grocery store, I recommend trying it out! If you don't have access to brunost nearby, stay tuned for my next post where I'll share a recipe to make it at home.
References:
---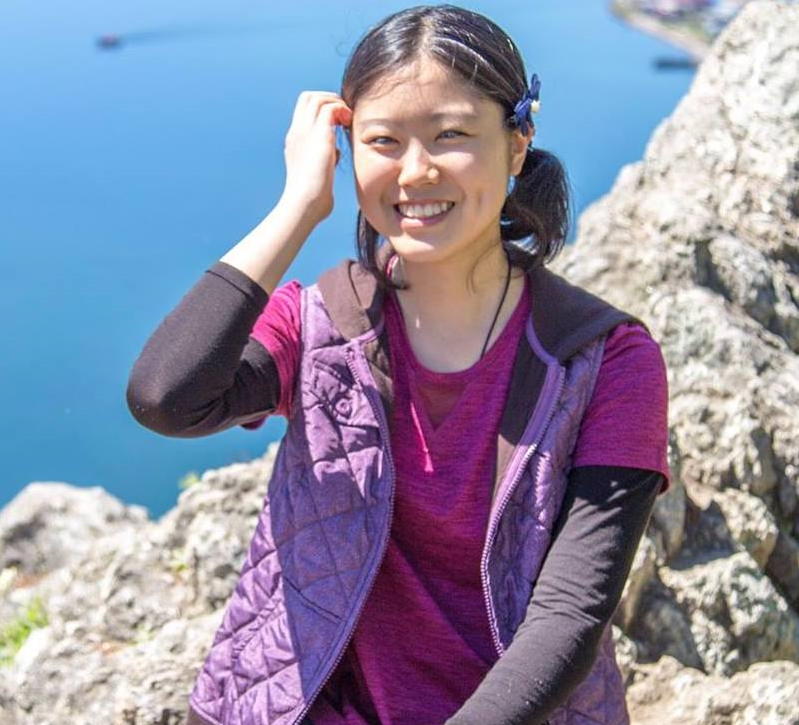 Karin Cho | Linkedin
SMF Blog Writer
Karin earned her B.A. in Biochemistry from Grinnell College, and during her time there, she was unsure how to merge her two passions for science and food. After attending several IFT events and completing a QA internship abroad, she decided to pursue a Master's in Food Science and Technology from Iowa State University. Her research involves the development of fat alternatives. Growing up in a Chinese-Japanese household, she developed a palate for tasting new, sometimes bizarre, foods. When she's not learning about food science, she enjoys watching science fiction movies, taking walks in parks, and learning new recipes from the people she meets during her travels.