Name:
Education:
BS in Food Science and Technology from Alabama A&M University
MS in Food Science with a concentration in Sensory Science from Cornell University
Job title:
Sensory & Consumer Research Manager
Company:
Product Dynamics, a Division of RQA, Inc. Product Dynamics provides sensory research, consumer research, and product development to many Fortune 500 food, beverage and ingredient manufacturers.
IFT Division to which you belong:
Sensory & Consumer Sciences Division (one of the most active Divisions of IFT!)
How did you go about finding your current job?
I found my current job through a recruiter who reached out to me on LinkedIn.
What is your favorite perk and worst pitfall of your current job?
One of the perks of my role is that I get a chance to try a lot of tasty foods before they hit the market. However, not everything that I work on makes the cut.
What do you wish people knew about your current job?
As a sensory professional, I wish that more people knew about my field. Sensory science is a fascinating, multidisciplinary field that not only involves food science, psychology, and statistics, it also incorporates physiology, genetics, consumer research, marketing, and a lot of other interesting fields. If I had a dollar for every time someone asked me, "What is that?" after I told them that I was a Sensory Scientist – I would be a millionaire. Okay, maybe not a millionaire, but at least a "thousandaire." J
How did you make your first dollar?  
I made my first dollar working at a clothing store at the mall while I was in high school. Ironically, I left that job to attend a USDA summer apprenticeship program at Alabama A&M University. During that summer, I decided to major in Food Science.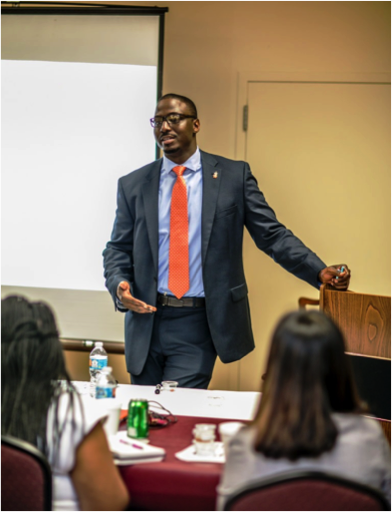 Why did you join an IFT Division?  
I joined the Sensory & Consumer Sciences Division to network with other sensory professionals in the food industry. Once I joined the Division, I quickly realized that the group was very open and inclusive.
What is the best career advice you have gotten?
This advice not only applies to my career, it applies to everything that I do: "Stay ready, so that you don't have to get ready." Simply put, always be prepared.
What's your favorite food?
My favorite food is a deep dish, butter crust sausage pizza from Lou Malnati's Pizzeria in Chicago, IL.
What's your favorite recipe?
My favorite recipe is anything that yields a soft chocolate chip cookie.
You can connect with Bryson in IFT's online community, IFT Connect, on LinkedIn, Twitter, or email at him at brysoncbolton@gmail.com.
---