IFTSA recently made changes to our Board of Directors structure and recruitment process to reflect our growing, global organization. Ultimately, IFTSA is eager to find the right people, equip them as leaders, and deliver on a strategic plan to ensure a member experience of value. We are committed to ensuring that IFTSA remains a relevant, responsive organization and are excited to share the changes our Board recently approved.
Last year IFTSA developed a strategic plan with three specific promises to members. This was a transformative process among our board leaders to establish a strategic plan that reflects mission, vision and metrics to monitor that the organization is staying on track. As you might expect, we started asking tougher questions about how to use resources to ensure delivery of these promises. These questions led to the development of a task force to evaluate who has authority to make leadership decisions and how to best identify, recruit and train these decision-makers.
The Task Force spent the last several months discussing and evaluating board structure and nomination process models, gathering insight from other science-based associations, and soliciting input from IFT staff and volunteer leadership. We received solid input, debated the ideal solution and proposed changes to ensure long term success of the organization. The board approved the following changes below: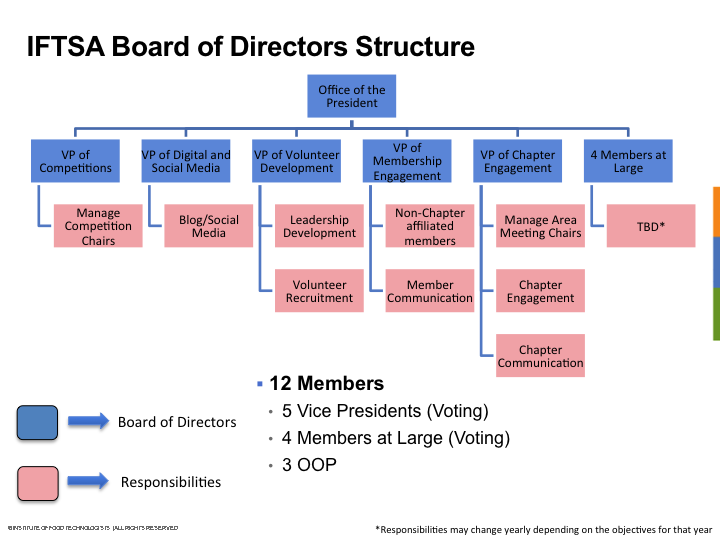 The major changes relating to this new structure are the addition of 4 'Members at Large' positions and the removal of Area Representatives from the Board. IFTSA is currently investigating the Area Representative position and how to most effectively plan and execute Area Meetings, while continuing to help build and support student leaders. Be on the lookout for announcements from the Area Representative Enhancement Task Force outlining their findings in the coming months.
IFTSA will be utilizing a slate process to nominate student leaders for IFTSA Board of Directors positions. The slate will be selected by the IFTSA Nominations Committee and advertised to the membership. Members do not have to formally accept the slate, but have the potential to petition if they feel the individuals selected are not best suited to lead IFTSA. Check out the IFTSA Bylaws for a more detailed explanation of the process.
IFTSA is a dynamic organization and will remain led by student members. These changes are rooted in your needs with the goal of ensuring all members are provided opportunities to achieve your full potential. We are confident these changes will ensure the leadership of this organization remains relevant and responsive to student member needs. Please consider this a first invitation to learn more about the nomination process and perhaps, determine that you have an interest in serving on the Board.
If you'd like to learn more… http://www.ift.org/community/students/nominations.aspx
And want to keep up with the conversation? Follow us on Instagram and Facebook for quick updates on seminars, events, and food science!