Name: Rebecca Skolmutch
Job title: Manager, Health & Wellness Compliance
Company: Disney Consumer Products
IFT Division(s) to which you belong: Nutrition, Public Policy & Regulations Division (just joined!)
Highest Level of Education/Degree: MS Food Science
What does your schedule look like today?
I got in early this morning for a call with our office in London to review the company nutrition standards with a new colleague. Followed by a call with a licensee to discuss a few product concepts they're interested in launching. After the product development meeting, I am in a rush to catch up on emails before lunch. After lunch I have about an hour to review licensee product submissions for nutritional content and product claims. For the rest of the day in and out of meetings and trying to find some time to cross things off the to-do list vs. add to it!
How did you go about finding your current job?
I was not looking to leave my old job at Mars Food, when I received a call from a former boss with a unique opportunity… to come and work for him doing product development in the entertainment industry??!! The first thing that came to my mind was who wouldn't want to work with Mickey Mouse! In all seriousness the opportunity to collaborate with incredible manufacturers across the food industry to balance great taste, nutrition and infuse a little fun into products was a one of a kind opportunity. I had to leap into it!
Who do you think is the most influential person in your field?
Consumers. Consumers, specifically moms are demanding affordable, convenient nutrition for their children and families. Every day as food scientists we're striving to make products better (e.g., taste, texture, nutrition, convenience in preparation and packaging), processes better (enhance efficiencies to improve product quality and safety), provide clearer information and in the end it's all for the consumer.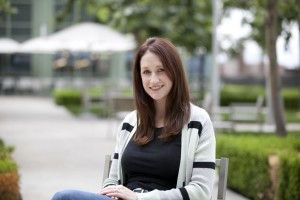 When are you most inspired?
I am most inspired when all of the pieces fall into the right place to transform a product into an experience! An innovative idea that is actually able to-go-to market – fulfilling a consumer need/want and it sells! The team collaboration, hard work and of course a little magic!
If you could know one thing now, that you didn't know then, what would it be?
Be patient, well at least try harder to be. We live in such a fast paced world that is only getting faster. Taking more time to truly absorb, learn, observe and listen is necessary and respected. Quality research takes time!
Why should I join the Nutrition Division or Public Policy & Regulations Division?
To build your perspective, see the science through the different filters of the profession.
Join the Nutrition Division!
Join the Public Policy & Regulations Division!
The most valuable thing I, as a student, can do to further my research/career as soon as I finish reading this interview is:
Try everything! Take as many food science courses as you can to find your niche. Food science is such a diverse field: you can be a product developer, sensory scientist, food engineer, food microbiologist, food chemist, etc. The possibilities are endless.
What is your favorite food?
Shrimp tacos in a warm corn tortilla with a cabbage slaw, lightly dressed in a jalapeno cilantro sauce, drizzled on top. Delicious!