Hello IFTSA! For those of you who don't know me I will start by introducing myself. My name is Amy DeJong and I am truly honored to be serving as your President for the next year.  Currently, I'm a PhD student at the University of Wisconsin-Madison studying sorbitol crystallization in sugar-free confections. Yes, that's right; someday I will be a candy doctor.
Just a few weeks ago, the IFTSA Board of Directors met in Chicago to discuss goals for the year and also plan for the future of IFTSA.  A new strategic plan was approved, aligned closely with IFT, to continue building IFTSA into an even better organization. This focuses on three core promises: Connect, Develop, and Support.  Stay tuned for more information on ways that this new plan will benefit you as an IFT member.
On November 10th IFTSA also hosted the inaugural Global Summit (we hope you got an opportunity to join), a fun, virtual event for students from all over the world.  We welcomed a series of speakers on GM rice, communicating food science, graduate school around the world, and even a session on what IFT Past President Bob Gravani wished he would have known when he was a student.  The event drew 384 registrants from 25 different countries!
We want to grow this annual event to allow everyone to experience the fun and learning of the annual event from the comfort of their home. If you are interested in getting involved in planning next year's event, I'd love to hear from you! Email: adejong@wisc.edu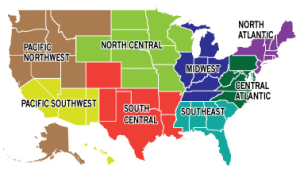 All of our chapters have also been busy with the start of the year…
Central Atlantic – Representative: Lily Yang, Virginia Tech
2,300 gallons of ice cream were sold by NC State at the North Carolina State Fair to raise money for the club, with the ice cream produced in the food science building with milk from NC State dairy cows. Now that's impressive. They also made sure to give back to the community with events with Backpack Buddies, the North Carolina Food Bank and Lunches-to-Go. University of Maryland had industry speakers from Honest Tea and Nando's (yum) and hosted a social for the Smithsonian Food History Day Festival in Washington, D. C. PPE is important to the University of Delaware during their networking night at Yard's Brewery with IFT Philly section.
Midwest Area – Representative: Neeraj Kamath, Illinois Institute of Technology
During October the Department of Agriculture hosted a Farmer's Olympics and Hog Roast and Purdue Food Science Club (undergraduate) took part and… lost. But that's not the point, they had a great time! Wayne State have been busy fund raising, organising Lab and Job shadow programmes and running sensory panels and delicious looking products. At the folks over at THE (I'm told the "the" is rather essential) Ohio State were busy bees visiting Wendy's HQ and having a visit from Brew Dogs (slightly jealous) and having an ice cream sale at Farm Science Review.
North Atlantic – Representative: Lavinia (Yan) Wang, Rutgers University
IFT Day of Service focuses on the importance of giving back by volunteering at food banks, and Rutgers did this at the Community FoodBank of New Jersey. A group from UMass Food Science Club hopped in a car (not one) and took an 8 hour trip Keurig Green Mountain's Sensory Test Center, Ben & Jerry's and Cabot Cheese. They also helped bag over 2000 pounds of apples at the Food Bank of Western Massachusetts.
Pacific Southwest – Representative: Lauren Bosio, Cal Poly San Luis Obispo
During Oktober the folks over at Chapman hosted their clubs first fundraising event with the help of Straub Distribution Company with courses paired with beers to go with them by the awesome Budweiser team. A trio of bruschetta were served next (kalamata olive tapenade, roasted eggplant, and conserva) paired with Goose Island 312 Wheat American Wheat. Cal Poly Pamona kicked off their October with their annual Pumpkin Festival which is a great fundraising opportunity and an opportunity to chow down on some delicious food. Cal Poly SLO put on some sun screen and helped out harvesting food for GleanSLO food bank, they've also hosted industry nights and created a fantastic new logo (shout out to John Vollmer and Laura Borovilos).
South Central – Representative: Madeline Howe, Texas A&M University
Texas A&M got the opportunity to get lots of free swag when their industry speakers Dr. Pepper Snapple Group and Kellogg visited their club. Along with plant tours of The Food Protein R&D Centre and the National Centre for Electron Beam Research, they also had a pumpkin carving-off. Louisiana State did their IFT Day of Service at the Greater Baton Rouge Food Bank and also held a holiday "Thanksmas" potluck and a tour of a sugar refinery with the Gulf Coast section of IFT. Oklahoma State organised Hunt for Hunger food drive for food pantry and held lots of activities encompassing delicious food like pizza, past and ice-cream with liquid nitrogen. TEC de Monterrey sponsored a workshop and lecture during the Food Engineering Symposium, a 3-day event which had 330 guests from all over Mexico. They also organised a trip to the town of Tequila to learn about the production and regulations of Tequila.
Southeast – Representative: Morgan Von Staden, Mississippi State University
University of Georgia food science club hosted is 2nd annual Great Pumpkin Cook-off in October. The dishes ranged from pumpkin lasagne to pumpkin soda… The winner was Andrea Jackson (who's accustomed to winner as she won the IFTSA Global Summit photo competition) with her pumpkin chilli and pumpkin corn muffins. Other winners include pumpkin gnocchi and pumpkin spring rolls.