By: Yim Fan Yan
Student-to-student small talk.  Y'all know what I'm talking about, right?
1) What year are you? (and if you've answered that you're a graduate student how many years until you're done?)
2) What's your major? Why?
3) Do you live on campus?
Although I've partook in these conversational ice breakers numerous times—and it's always enjoyable meeting friendly students—I still don't know how to answer these sorts of questions without "getting into it."  By "getting into it," I mean telling the story of how I came to be a food science major.  I think it's partially because it hasn't quite sunk in that I quit my law firm job a year and a half ago, gave up all that was familiar, and drove across the country to study food science at the undergraduate level.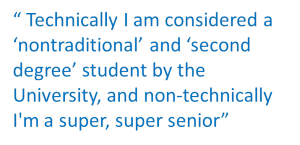 This is my first blog post—I'm excited to be a part of the IFTSA blog!—so I thought it would be appropriate to introduce myself by answering these questions (that I dread) and sharing the perspective from which I approach food science.  So…let's get started.
1) What year are you?
I have just three more semesters, including this one, before I complete the degree requirements for a B.S. in food science, so I suppose that would make me a junior/senior.  Luckily, my previous bachelor's degree in linguistics exempted me from the University's general educational requirements.  I enrolled in some basic science courses at my local community college prior to transferring into a degree program, and some of those courses counted, too.  Technically I am considered a "nontraditional" and "second degree" student by the University, and non-technically I'm a super, super senior. 🙂
2)  What's your major?  Why?
I'm majoring in food science.  The "why" is usually the tough part, but surprisingly I've found that the "major" part could be just as difficult to explain.  I know some of you relate.  "Food science. Hmm. So, like, you want to cook?" or "You mean nutrition?"… but let's not get into this now.
The obvious answer is, of course, that I love learning about food (and eating food) and science rocks my world.  However, there's definitely more that drew me to the discipline.  When I first started working in the legal field in Chicago, IL, law school was definitely in my plans.  However, during my search for the perfect law school, I found food science.  I was instantly intrigued and that intrigue eventually inspired action.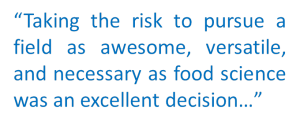 Aside from these fabulous reasons and these signs that food science and I were meant to be, I chose food science because I believe we can leverage scientific knowledge to increase access to nutritious foods on a global scale.  I wanted to delve into the other side of food science—not the side that's so often demonized in the media, though those dynamics are important to consider as well—but the part of food science that could incorporate agricultural science, human nutrition, and community outreach to address concerns of food insecurity, food recovery, sustainable food production practices, and accessible science education.  In order to do this, I needed a stronger foundation in the basic sciences as well as food science.  Taking the risk to pursue a field as awesome, versatile, and necessary as food science was an excellent decision, and I'm grateful for the opportunities I've been given to incorporate interesting food science courses, undergraduate research projects, internships, and industry exposure into my journey of learning thus far.  I look forward to exploring different food science topics with the IFTSA blogging community.
3) Do you live on campus? 
Nope.  When I moved to New Jersey from Los Angeles, California, I was more or less making a permanent move.  I've been living on my own for quite some time, so as you can imagine, campus housing wasn't for me.  The east coast is definitely growing on me, but I'm excited to see where this food science adventure takes me next!
Want to share the story of how you found food science? Let us know at iftsa@ift.org