By: Behannis Mena
This has been a great year for the LSU Food Science Club. In order to motivate and obtain more participation from the club´s members, we implemented several new activities that encompass all the four main categories we focus on: (1) Members´ Professional Development, (2) Volunteer work, (3) Social events and (4) Fundraising . These activities included: birthday potlucks, Kids in the Kitchen volunteer project, College Bowl Mock up series, stadium clean up for fundraising, and others.
Outreach activities constituted a big part of the club´s activities during this year as well. We promoted food science by showing people what food science is about and also giving away new and updated flyers with information about us and IFT . For instance, in activities like Super Science Saturday and AgMagic we taught kids the science behind emulsions, where the ingredients of a pizza slice come from, the importance of sanitizing your hands before eating, and even performing simple sensory analyses. All these activities were made with great energy and determination to accomplish the goal of recruiting new members to bring enrichment to the group and promote our organization.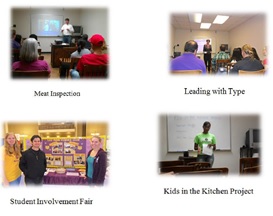 We finished up the school year with a birthdays potluck and the announcement of elections results for 2013-2014 executive officers´ board. Awards and certificates were given to recognize the members who had an exceptional participation and contribution to the club this year.  It was the perfect event to end this awesome year, we really enjoyed ourselves.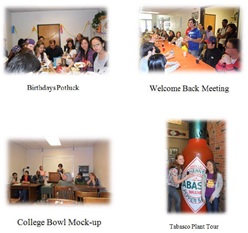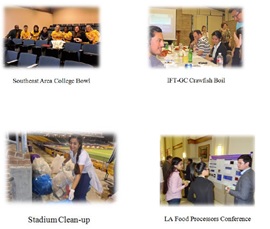 Hard work pays off! The improvement of the club over the past year was notable because membership participation grew not only in quantity but in quality. As a group, we are very proud of our achievements and look forward to next year!