By: Lisa Rosenberg
You know something fun is about to happen when you have 15-20 people up on a Saturday morning before 8AM. On October 27th,2012,  18 students from the NC State Food Science Club participated in running in the new fad around the country…Color Me Rad!  For over an hour, we would be covered in different colors while running/walking a 5K  in order to benefit the Special Olympics of North Carolina. In addition to participating in public service, we had 25 students attend our regional Dogwood Meeting in Asheville, NC earlier this past month.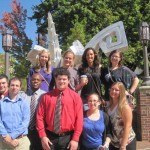 All of these events and more were funded by the club's annual fundraiser, Dairy Bar, which was a rousing success this year!! During the NC State Fair, food science club students ban together and scoop ice cream with shifts going from 6am to 11pm everyday during the fair. Faculty and staff lend a helping hand, as well! The hard work certainly pays off  and allows the students to participate in a number of activities, from scholarships and supporting summer sch
olars students to hosting social events and assisting product development teams.
Check out a "behind the scenes" look of Dairy Bar on the local news here: http://abclocal.go.com/wtvd/video?id=8844066&pid=8843216.
If you got $500 donated to your club today, what would you suggest to your President about how to use the money and why?