Kitchen Theory (KT) is a lot like a world-class athlete: extremely talented, detail-oriented, awe-inspiring and eager to learn. Kitchen Theory is a design studio with a chef's table and a research laboratory. Kitchen Theory also serves as an advocate for global well-being.
Well, that's a lot to unpack.
To give this enterprise the introduction it deserves, I reached out to its founder, Jozef Youssef.
"Kitchen Theory is a London based design studio with an award-winning experimental Chef's Table. Our team, led by Creative Director chef Jozef Youssef, work in collaboration with leading scientists & psychologists to research multisensory flavour perception and push the boundaries of gastronomy, creatively applying the results in innovative commercial, artistic and altruistic projects." [1]
Youssef founded KT in 2014 out of London, England.
He has struck a balance between science and art with his plates being both pleasing to the eye as well as edible. There are many layers to what Youssef has built at KT, all of which involve science, design, creativity and expert collaborations.
KT's work is both a clear representation of Youssef's unique vision and an encouraging model for the multidisciplinary integration of science, art, and cuisine.
Jozef Youssef – Image by Annemarie Sterian
How did Jozef Youssef become Chef Jozef Youssef?
When Youssef was a young man he was unknowingly influenced by his father, a chef. However, being a chef wasn't always a part of Youssef's plan. He went to school and obtained a degree in Business and Information Technology. Youssef never attended culinary school. But soon, he was teaching himself the science of contemporary cooking. He educated himself on global cooking techniques and studied the evolution of molecular gastronomy. He used cookbooks, the internet, and looked onto experts within the field such as Hervé This. Hervé, a French Physical Chemist, is responsible for the term 'molecular gastronomy' and actively studies the phenomena associated with culinary transformations and Harold McGee, an American author who writes about the chemistry and history of food science and cooking  best known for his seminal book On Food and Cooking.
Youssef fine-tuned his skills working at restaurants with Michelin stars, learning from the best. In 2016, he even published a book called "Molecular Gastronomy at Home," teaching the reader how to apply popular molecular gastronomy techniques in their own kitchen. Youssef is truly a self-taught Chef with an appreciation for the science of food. It is likely that his dynamic background is what makes him such a force in the world of multi-sensory dining. (Read more on molecular gastronomy here.)
If you're wondering why other chefs don't tout their scientific prowess, it's because this is quite an uncommon business model. In a world where science is often viewed at odds with creative achievements and artistic freedom, KT breaks down these barriers. It only takes a glance at some of their plates to realize that both art and science acumen are what allow KT to create such stunning spectacles.
Kitchen Theory images
A feature of my discussion with Youssef that stood out was his promotion and appreciation for cross-disciplinary collaboration, the defining characteristic of his enterprise. Perhaps, KT's most famous collaborator would be Professor Charles Spence. Spence is the head of the Crossmodal Research Laboratory at Oxford in the Department of Experimental Psychology. Spence's work on multisensory experiences has inspired much of KT's dining and design decisions, but this collaboration runs deeper. Youssef has co-published several peer-reviewed articles with Spence, which is no small feat—especially when academia is not your full-time job. This ultimately means Youssef's respect for the science behind food is authentic. It also means the incorporation of research findings comes more natural to him, putting Youssef in a league of his own.
How is KT organized?
The three main parts of the Kitchen Theory are:
The Chef's Table –Multi-course immersive fine dining experience designed to delight all senses
Design Studio –Commercial events devoted to making a statement
Research –Scientific exploration of the human psychology and sensory systems to foster cutting edge KT creations and to apply to projects that enhance human well-being
By combining research results with a passionate, creative team, KT's immersive experiences become sensational. But Youssef explained that his creations can be more than sensational.
They can activate emotions.
This is because food flavor has a unique way of inducing emotions in humans. Flavor is largely made up of aromatic compounds (smells). Smell is processed in areas of the brain that are critical to emotion and memory. That's why smelling a homemade chocolate chip cookie can immediately spark a childhood Christmas memory. These connections are also quite strong and specific.
KT's experiential events engage each human sensory element to make us feel like we are someplace else. This actually works, and is supported by research into the effect of multisensory elements in artificial environments [2-4]. This research shows that higher congruency with real-life experiences in the dining environment enhances the sensory experience of the cuisine.
Our sensations are constantly analyzing our surroundings. By calling attention to these perceptions we can create a more contextually valid artificial environment. Also, KT makes it easier on their clients. Asking clients to "imagine hearing waves and seeing the movement of water" is work. Imagination can be difficult. With KT inducing all of these sensations, consumers are easily engaged [5], especially when compared to a typical restaurant [6].
"Food is a medium by which to communicate and teach people"

– Jozef Youssef
With each plate, KT tells a story. This—food as a language—is something that few world-class chefs are exploiting in as many ways as Youssef. The best part of using food as a vehicle to communicate experiences is that there is no language barrier. Youssef believes there are complex, emotional ideas that are better expressed through food.
Kitchen Theory image
John Scott Blackwell images
But stimulating the senses isn't enough…
Collaborations, like that between Spence and Youssef, are for a larger purpose. This team is using research on how humans interact and experience their food to better understand how human sensations define eating experiences. These findings are meant to aid in solving global problems like obesity and sustainable food production practices [7].
Another way to enhance well-being is by helping the future leaders of our world, college kids! One of the most recent collaborative efforts out of KT is the so-called "Chemical Kitchen."
Youssef described to me a kitchen meant for new students entering the sciences, particularly chemistry at Imperial College London. Youssef and collaborators in Imperial College's Department of Chemistry are designing a course titled, "Introduction to Culinary Practice." Youssef also noted that Imperial College is known for being cutting edge and extremely innovative. This makes them a great candidate for early adoption of new teaching styles.
And in true KT fashion, this was born from one epic collaboration. Collaborators include Professors Roger Kneebone and Alan Spivey. The Chemical Kitchen originated from the belief that many students entering chemistry are quite inexperienced when it comes to working in a lab. This course is meant to be a segue to help students gain practical lab experience. A lab revolving around food is a soft entry into the all-too-common intimidating chemistry labs of college campuses.
The Chemical Kitchen was also proposed as a way to embolden students and teach them that failure is okay. They want students to be able to gain confidence in a lab environment and realize that failure has historically led to many breakthroughs.
Not being afraid of failure is a major point Youssef emphasized in our discussion. Another is the mistaken notion that science is sterile and lacks creativity. Culinary science is a way to show the students that creativity is embedded in both science and art. As Youssef has proved voraciously, science and art pair quite elegantly.
"Creativity is key to good science. Solving scientific problems and developing methods takes a lot of creative ingenuity," Youssef explained.
Another point Youssef emphasizes is that students should learn early that cross-disciplinary collaborations are extremely valuable, especially when people want to solve big problems. Working together combines unique perspectives, experiences, and ideas in one space. That's where the magic happens. I think Youssef has shown this thoroughly.
There is an endless list of multisensory experiences designed by the KT team. Make sure you investigate for yourself. Youssef's work has truly shown the world how successful you can be when you break down boundaries, collaborate, and follow your passion.  I can't wait to see what the future holds for KT.
Thank you, Jozef, for taking the time to speak with me. I can't wait to plan a trip to London!
Did you have a good time learning about Kitchen Theory? Come check out our Instagram and Facebook to get plugged into more articles about food and science!
References
Dede, C. (2009). Immersive interfaces for engagement and learning. Science, 323, 66–69.
Dinh, W., Hodges, C. S., & Kobayashi (1999). Evaluating the importance of multi-sensory input on memory and the sense of presence in virtual environments. Virtual reality, 1999. Proceedings., IEEE (pp. 222–228).
Munyan, B. G., Neer, S. M., Beidel, D. C., & Jentsch, F. (2016). Olfactory stimuli increase presence during simulated exposure. In S. Lackey, & R. Shumaker (Vol. Eds.), Virtual, augmented and mixed reality. VAMR 2016. Lecture notes in computer science. Vol. 9740. Cham: Springer
O'Brien, H. L., & Toms, E. G. (2008). What is user engagement? A conceptual framework for defining user engagement with technology. Journal of the Association for Information Science and Technology, 59(6), 938–955.
Andersen, I. N. S. K., Kraus, A. A., Ritz, C., & Bredie, W. L. P. (2019). Desires for beverages and liking of skin care product odors in imaginative and immersive virtual reality beach contexts. Food Research International, 117(December 2017), 10–18. https://doi.org/10.1016/j.foodres.2018.01.027
---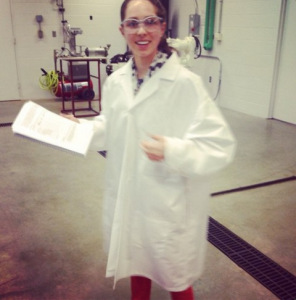 Alex Pierce-Feldmeyer | Linkedin | Website
Alex graduated with a B.S. from the University of Illinois in Food Science and completed her PhD at Ohio State University in a lab revolving around sensory evaluation and psychophysics, potentially the functional or cognitive benefits from food and food ingredients. Alex is currently a sensory scientist at MANE, a flavor company. An avid study-er of the nose and its wild contributions to flavor, potentially how aroma affects different aspects of cognition. Alex dabbles in triathlons and fitness-ness. She has an ice cream tour every Sunday, every ice cream place (that is good) is on her list and it must have sprinkles. Grocery stores, sunrises and puppies are everything!